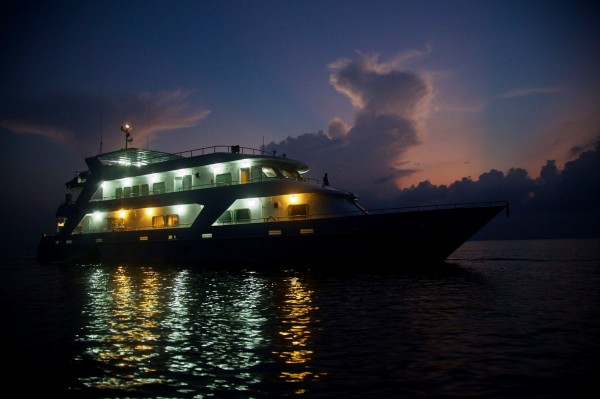 Amazing diving trips in the Andaman Islands with exclusive itineraries - only on the Infiniti!
We are really looking forward to our second season of incredible scuba trips in the Andaman Islands. The season will run from November 2014 until end of April 2015. Many learnings from the first season have been applied to craft a calendar of amazing journeys with the focus on taking you to the doorstep of the best diving spots in the area. As the only live-aboard operating in this huge expanse of the Indian Ocean, exclusivity is guaranteed!
Our journeys will follow three main itineraries as detailed below. Exclusive itineraries can also be customized for groups or private charter.. The Infiniti is a sea-going vessel with a permanent India flag, and so the liquid world is the Infiniti's oyster.
Ritchie's Archipelago & Duncan Island
Ritchie's Archipelago is a cluster of islands including Neil & Havelock that lie some 25–30 km east of Great Andaman. There are several interesting dive sites here to choose from with world class diving at Johnny's Gorge, Dixon's Pinnacle. Duncan Island is an impossibly beautiful island with some gorgeous dive sites such as White House Rock & Inket Wreck ( a Japanese WWII shipwreck).
This itinerary beautifully combines convenience with adventure. It's a relatively shorter sail and mobile network connectivity is not too bad. Havelock & Neil have some infrastructure with nice resorts & restaurants, so after a day's diving, we can step out for an evening meal or a walk on a pristine beach or explore some nature trails. This is an itinerary that can be done anytime of the season between October to April, and is good for all levels of divers including learners & beginners.
The enchanting southern islands
The southern islands of North Cinque, Sisters & Passage are simply gorgeous with some beautiful diving and divine beaches. The sisters' islands feature a virgin, unspoilt beach with soft white sand. North Cinque Island serves up a special treat in the form of "biolumniscent night diving" . Passage Island is best known for a stunning dive site called "Fish Rock"- an extremely colorful dive site with millions of fish!
This is one of our absolute favorite itineraries and we do these trips between January and May. Though the islands are uninhabited, the sails are not too long and some mobile phone network is available at Cinque Island. This itinerary is good for all levels of divers including learners & beginners.
Spectacular Barren Island
Our live-aboard trips to Barren Island are legendery! Barren is a remote easterly island with the only live volcano in all of South Asia. As we approach the island, the sight of the smoking volcano blowing ash is imposing. The surrounding waters are just absolutely stunning for diving. This is the best diving in all of Andaman Islands and many avid divers list it among the best in the world. With superb visibility, lush & fast growing coral gardens, Manta Rays & other pelagics, abundant & varied marine life, unique underwater stone & lava formations.. this is scuba diving at its most sublime!
A diving trip to Barren is a very special adventure. The island is remote, sail is quite long and anchorage is difficult; so we do this trip only between end February to mid April when the sea conditions are at their best. Then we typically spend 3 days there and dive upto 4 times a day at the many incredible dive sites. Some of the dive sites are suitable only for experienced divers, as there can be currents.