The Andaman Islands
The Andaman Islands, among the most remote islands in the world, are a relaxed tropical island outpost belonging to India. In sharp contrast to the otherwise crowded Indian destinations, the Andaman Islands are a serene paradise for travellers. One of India's most fascinating water bodies, the archipelago comprises 572 virgin tropical islands with unique wildlife & lush forests; and with the Andaman Sea to the east between the islands and the coast of Burma, stretching across 6,400 sq. km.

Stunning, near-deserted beaches, remote volcanoes, gorgeous corals and marine life, an intriguing colonial past and the remnants of a Stone Age culture lure travellers to these mysterious islands in the warm, tropical waters. After a 50 year period of virtual isolation from the outside world the Indian government has made a decision to allow limited, environmentally conscious tourism development in the islands while committing itself to protecting the island's aboriginal population and its natural environment.

Visiting the Andaman Islands really is a special adventure. These islands are among the last places in the world with a minimum human footprint - only 26 of these 572 islands are inhabited. Until the beginnings of colonial rule, the islands were populated mainly by indigenous peoples. Today, the majority of population are mainland settlers who live in and around Port Blair.
Diving the Andaman Islands
Come see varied secrets of unspoiled natural islands… Diving around the Andaman Islands of India, one of the last unexplored diving frontiers in the world; in a luxury live-aboard is an experience no diver should miss!

Until recently, the Andaman Islands were completely isolated and the new tourism development has been environmentally conscious, resulting in abundant and diverse marine life in surrounding waters for divers to explore. With fringing reefs, steeply sloping walls, coral pinnacles, wrecks, plus the more unusual jet-black volcanic walls of Barren Island, there is something for every diver on a live-aboard cruise to the Andaman Islands!

Only a few diving destinations in the world feature more than a single major attraction.. Andaman islands is one place that offers it all. There are many diving destinations in the Andamans, here are some of our favorites: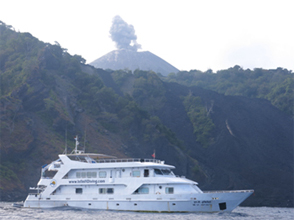 Spectacular Barren Island
Diving the surrounding waters of this remote island with the only active volcano in all of South Asia is simply stunning! With superb visibility, lush & fast growing coral gardens, Manta Rays & other pelagics, abundant & varied marine life, unique underwater stone & lava formations.. this is scuba diving at its most sublime! See more about dive sites of Barren Island here.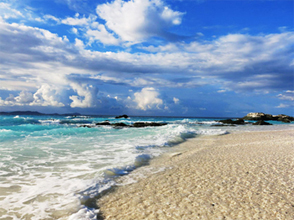 The Enchanting Southern Islands
The southern islands of North Cinque, Sisters & Passage are simply gorgeous with some beautiful diving and divine beaches. The sisters' islands feature a virgin, unspoilt beach with soft white sand. North Cinque Island serves up a special treat in the form of "biolumniscent night diving" . Passage Island is best known for a stunning dive site called "Fish Rock"- an extremely colorful dive site with millions of fish! The dive site itself consists of rocky slopes, boulders & small drop offs that are adorned with large fan corals & numerous sponges. Nurse sharks, grey & white tip sharks are usually in attendance here.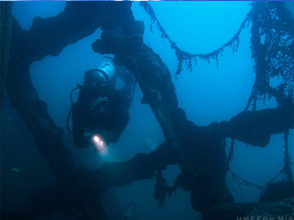 Duncan Island & Ritchie's archipelago
Ritchie's Archipelago is a cluster of smaller islands that lie some 25–30 km east of Great Andaman. The archipelago comprises some 4 larger islands, 7 smaller islands and several islets. There are several interesting dive sites here with world class diving at Johnny's Gorge, Dixon's Pinnacle. Duncan Island is an impossibly beautiful island with some gorgeous dive sites such as White House Rock & Inket Wreck ( a Japanese WWII shipwreck).
Plan Your Travel
The main airport is located at "Port Blair" and several good flights land here daily, from Chennai or Kolkata in mainland India (about a 2-hour flight).
The best months to visit the Andamans are between October to May. June- September sees heavy rainfall & monsoon storms. To dive the more remote Barren Island, plan to visit between February to April.
For foreigners, a visa to India is required. As the islands are a "restricted area", a special permit is also required which can be obtained at Port Blair airport on arrival (30 day stay allowed).
SUBSCRIBE TO OUR NEWSLETTER